AEJG built and maintains this Equity Dashboard for your use. To start, explore our data sources and glossary, or select a use case to learn more about the Equity Dashboard types.
Data Sources
Washington State Census population data
Governments, nonprofit organizations, and businesses rely on the U.S. population information provided decennially through the Census. Over time, the Census Bureau has changed the way it classifies race and ethnicity. Historically, the changes have been influenced by social, political and economic factors including emancipation, immigration and civil rights. More information can be found at www.census.gov.
Washington State Caseload Forecast Council (CFC) data.
CFC data is available for the years 1999-2021. Outlier cases in the CFC data have been filtered out of AEJG's sentencing views (550 cases with sentences > 9998 months). Washington's legislature and administrative agencies use CFC data to inform their understanding of caseloads and budgets. The data, available at WA Caseload Forecast Council, includes all adult felony cases in Washington Superior Courts. The CFC obtains their data, including demographics, from the forms prepared at each felony sentencing hearing.
Data set problems and limitations
This data is used despite data limitations that can impact proportionality analysis and mask disparities.
Washington's 39 counties do not all use the same sentencing forms and inconsistently identify race and ethnicity.
The CFC data does not enable users to identify multiracial individuals.
The CFC codes "Hispanic/Latinx" as a race instead of an ethnicity, does not include "Native Hawaiian" and "Other Pacific Islander" in its dataset.
The CFC data does not include granular racial and nonbinary gender categories.
The CFC does not include data on all sentence enhancements.
According to information provided in September, 2022, the CFC supplements its data with that maintained by the Washington State Patrol and Administrative Office of the Courts. But if there are conflicts in these data sets, the CFC defaults to its own data.
The following illustrates how data limitations can skew our understanding of disproportionality. Better race/ethnicity data would help provide answers to these questions. Better data would make disproportionality, or lack thereof, more transparent.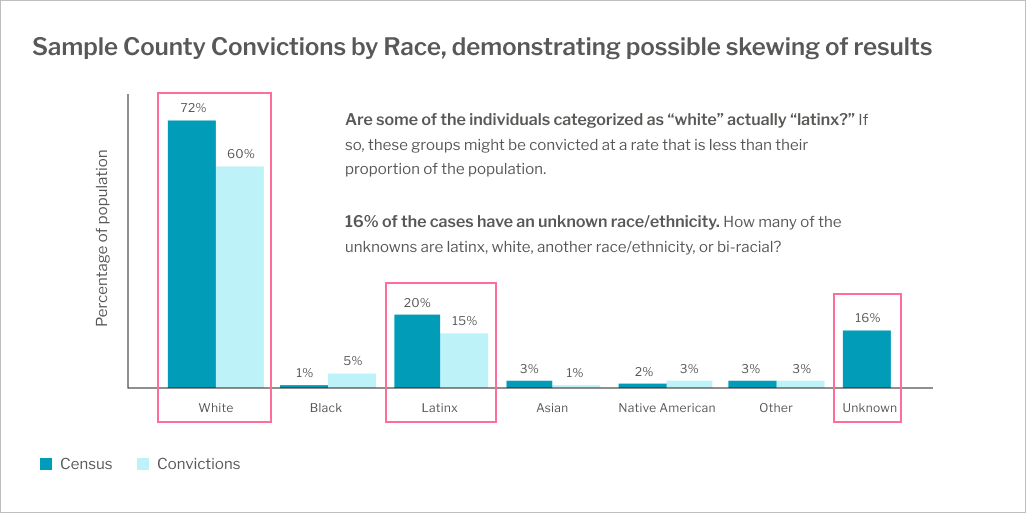 AEJG supports improved data keeping by the CFC and others in the criminal legal system. AEJG is also working to add more data sets to the Equity Dashboard to address limitations inherent in any one dataset. Currently, AEJG is incorporating approximately 50 years of data from the Washington State Administrative Office of the Courts (AOC).
Established in 1957 by state lawmakers, the Washington State Administrative Office of the Courts (AOC) maintains information and records from court case management systems across Washington's non-unified courts, including the Judicial Information System (JIS), the Superior Court Management and Information System (SCOMIS), the Appellate Court System (ACORDS), and Odyssey. AOC uses the data, in part, to develop operational budgets, evaluate judicial system functionality, maintain the computer system that serves the entire court system, provide continuing judicial education, compile statewide court statistics, and provide information to the judicial community, other branches of the government, and the public. The AOC tracks data from points at all stages of felony cases filed in any of Washington's 39 superior courts.
AEJG does not expect that adding AOC data will remedy all of the limitations found in the CFC data. That will require improved data keeping by actors throughout the criminal legal system.